Houston Uber Accident Attorney
Ridesharing has become a booming industry.  People love the convenience of simply getting on a phone app and calling for a ride from one place to another using the two main ridesharing companies: Uber.  If you have been injured as a passenger in an Uber car or you have been injured as a result of an Uber driver hitting your vehicle, you may have a entitled to significant compensation depending on the nature of the accident.
Uber has complicated insurance rules in place on liability in the event one of their drivers causes and accident where injuries are sustained.  The best course of action is to retain the services of an experienced personal injury attorney with knowledge specific to ridesharing accidents.  Attorney Javier Marcos is very familiar with ridesharing accidents and has successfully represented many clients that have been involved with accidents caused by Uber drivers.  His clients have been passengers and drivers of the cars and trucks hit by Uber drivers.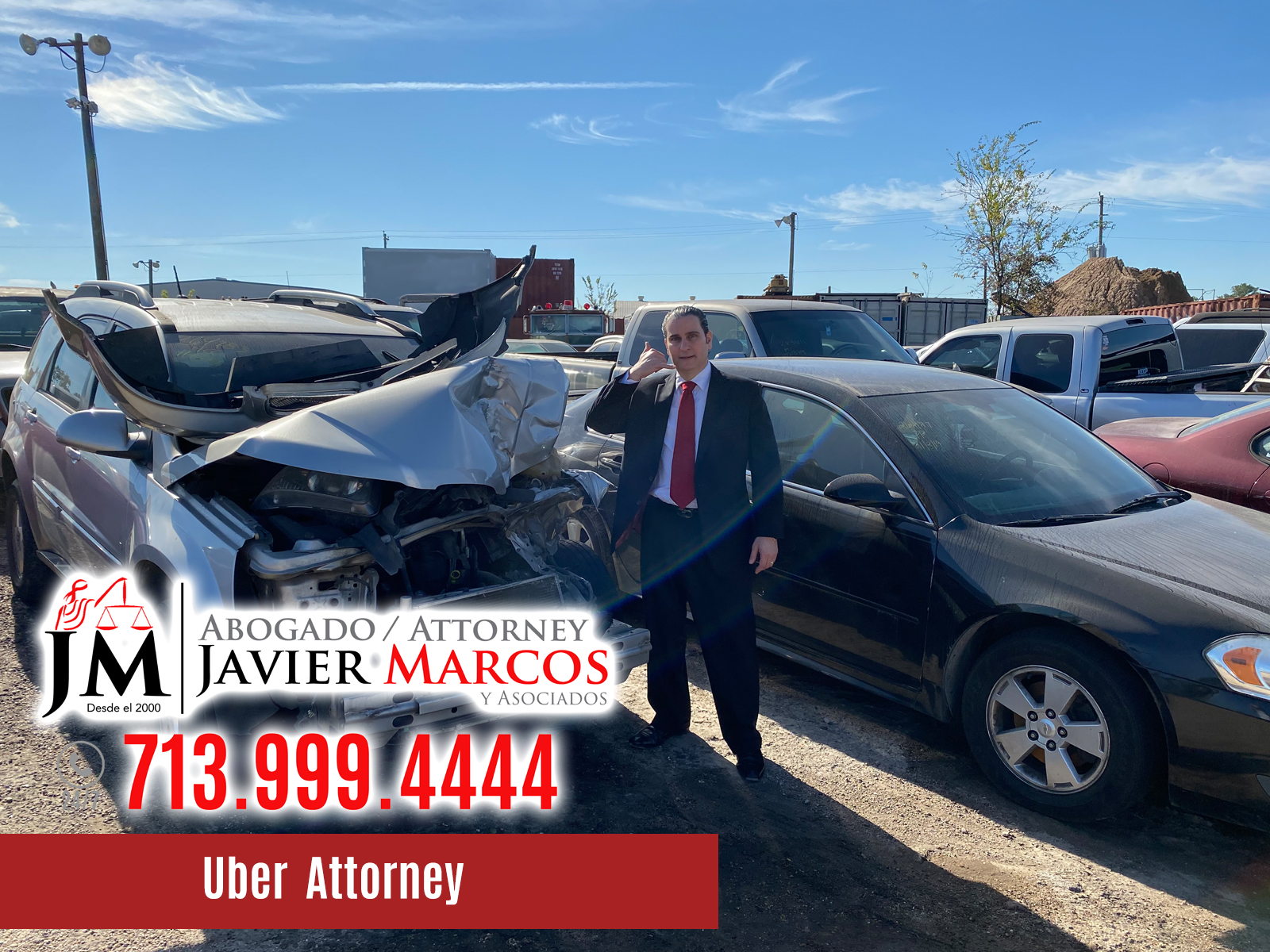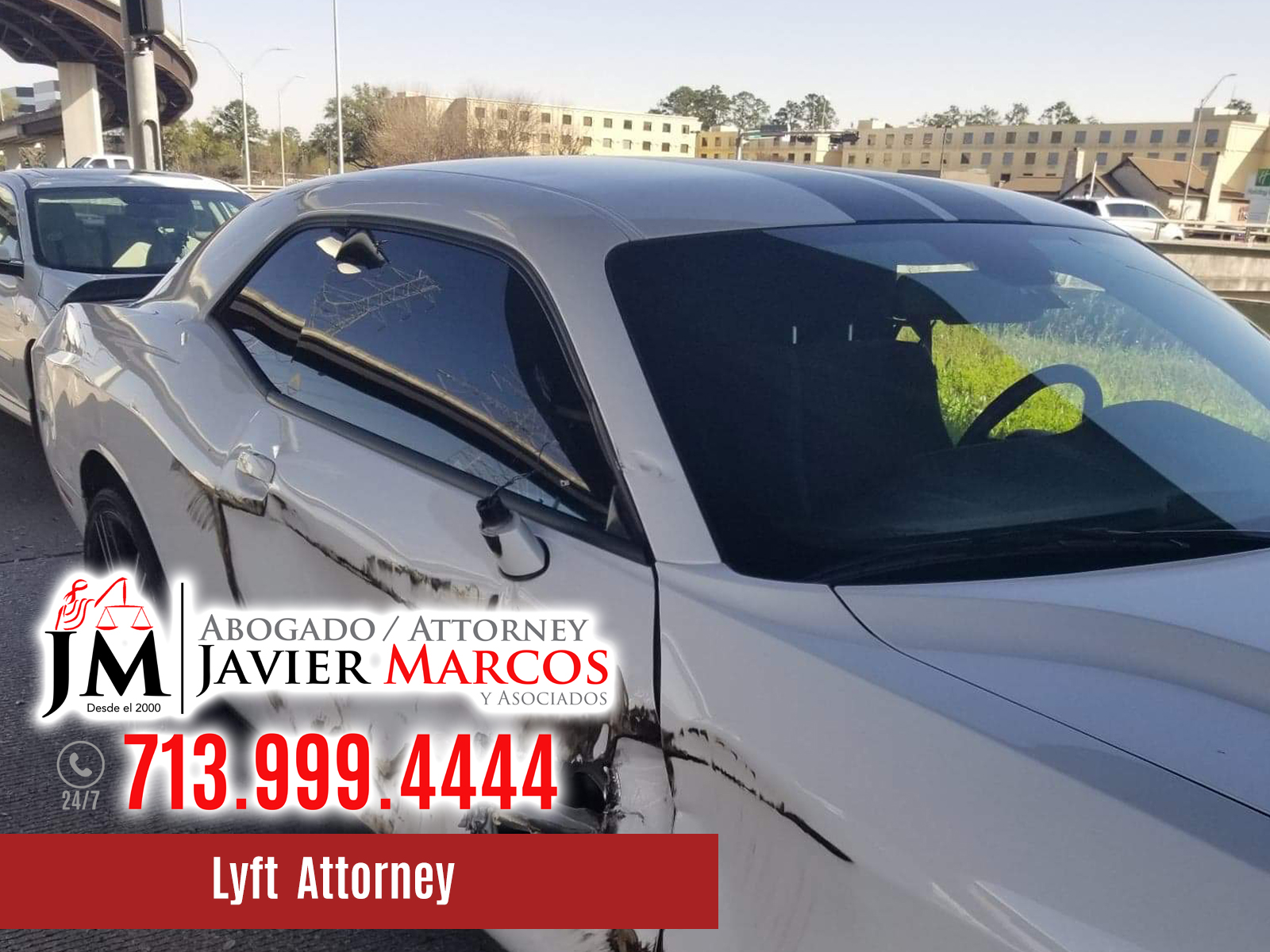 Do I really need an attorney for Uber accidents?
Absolutely.  Depending on the nature of the accident, an Uber driver's personal insurance may be who is responsible for claims.  In other cases, the company's insurance is responsible which usually means higher limits.  Additionally, if there are multiple claims in the case due to injuries to multiple people, then its usually first come first served until the limits are reached.  Attorney Javier Marcos will aggressively represent your case and get you maximum compensation for your injuries and property loss.  Time is very important in these types of cases.
es muy confiable y habla español y es muy comprometido con tus casos y es muy entregado en su trabajó
Great lawyer i recommend him
Ive had the best experience with this office! Amazing customer service! Javier Marcos really cares about ALL his clients and is the best attorney in Texas.
Es muy buen abogado. El servicio al cliente muy bueno. El abogado habla español.
There Very Professional and We've been given Exceptional services each time we use them for whatever our needs may be.. We won't use anyone but and highly recommend them for your legal services whatever it may be
Javier is a real straight shooter and works hard to get you your money. The staff are always pleasant and helpful. Highly recommended!
I recommend hiring this attorney for any personal injury matters he is a excellent attorney an his staff is very helpful and professional and caring so if you have a need for a personal injury attorney he is the man to go to, too get the most dedicated attention for your case Javier Marco's & Associates !!!
Very helpful honest lawyer. Yes I know honest and lawyer usually don't go together. Very knowledgeable in various practice areas.
Very recommended. He knows what he is doing. An attorney you can trust.
Lo recomiendo. El Abogado Javier Marcos se entiende con la gente Hispana.
El Abogado Javier Marcos es mi abogado. Siempre que quiero hablar con el esta disponible. lo recomiendo
Me parecio muy bien. Me gusta quw el abogado habla espanol. Es buena persona.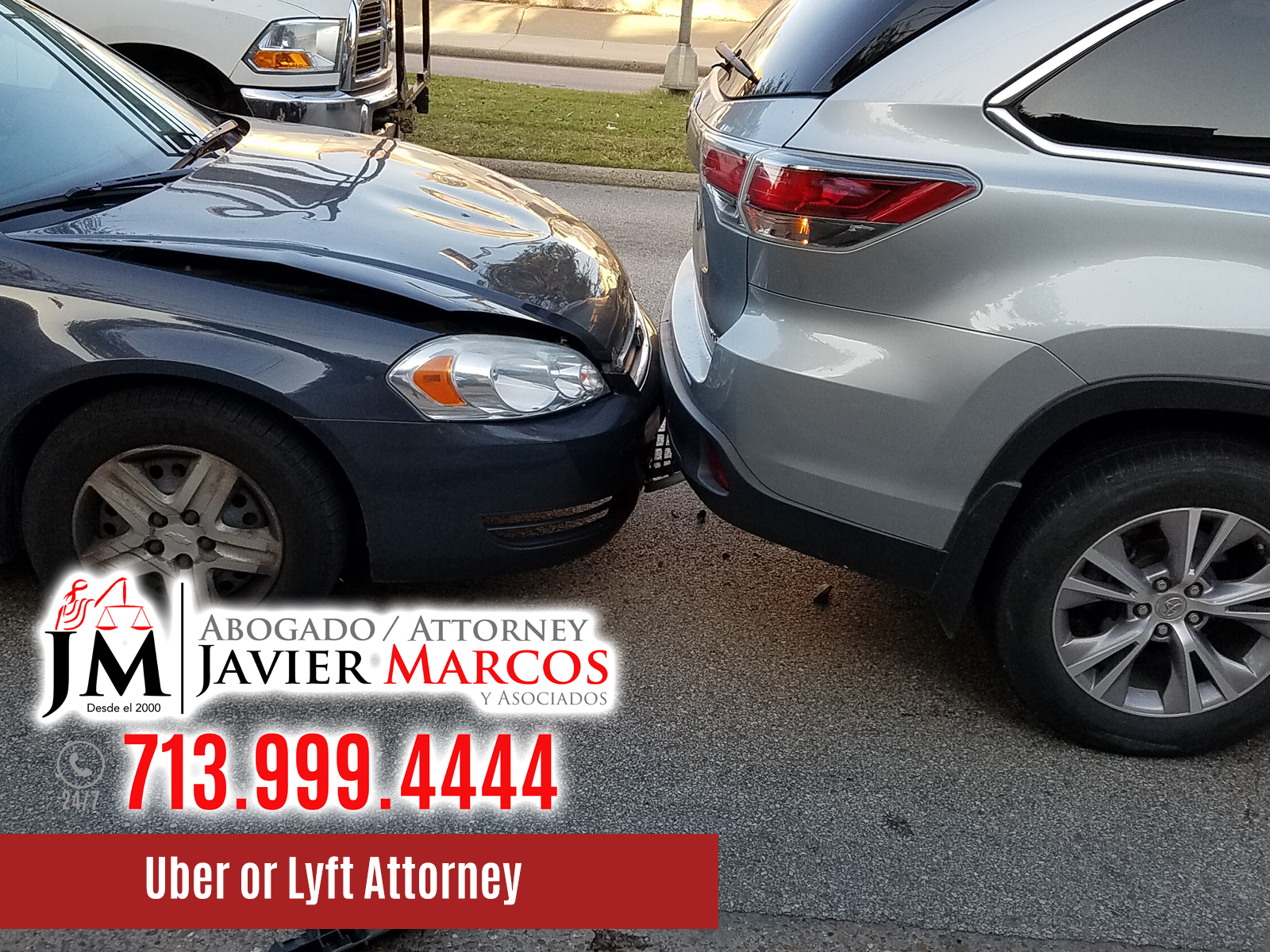 What about if I was hurt in a taxi accident in Houston?
If you have been seriously injured in a taxi accident in Houston, Attorney Javier Marcos can help you get maximum compensation by negotiating with the taxi company insurance provider.  Many details need to be investigated and documented to present the best case.  Insurance companies will work hard to minimize their payouts, so it is imperative that you seek legal help to competently represent your side of the case.
Common Types of Injuries in Uber Accidents
Car accidents result in many times of injuries.  Speed, size and many other variables lead to possible serious injuries from auto accidents.  Some common injuries include:
Neck and Back Injuries
Broken Bones
Strained Muscles
Cuts and Bruises
Internal Organ Damage
Brain Injuries
Amputations
Permanent Disfigurement
Permanent Disability
Is using Uber safe?
Statistically, it is safe to use ridesharing and taxi services to get around Houston.  Studies have showed that in 2018, there were 58 fatalities in ridesharing vehicles out of 1.3 billion rides.  So using Uber is safe for the most part.  But if you have been injured as a result of an Uber driver, then it is highly recommended that you seek legal advice from a personal injury attorney like Javier Marcos.  He will gather together the evidence in your case and represent you to the insurance companies.  Javier Marcos will also make sure that you are fairly and completely compensated for your injuries and loss.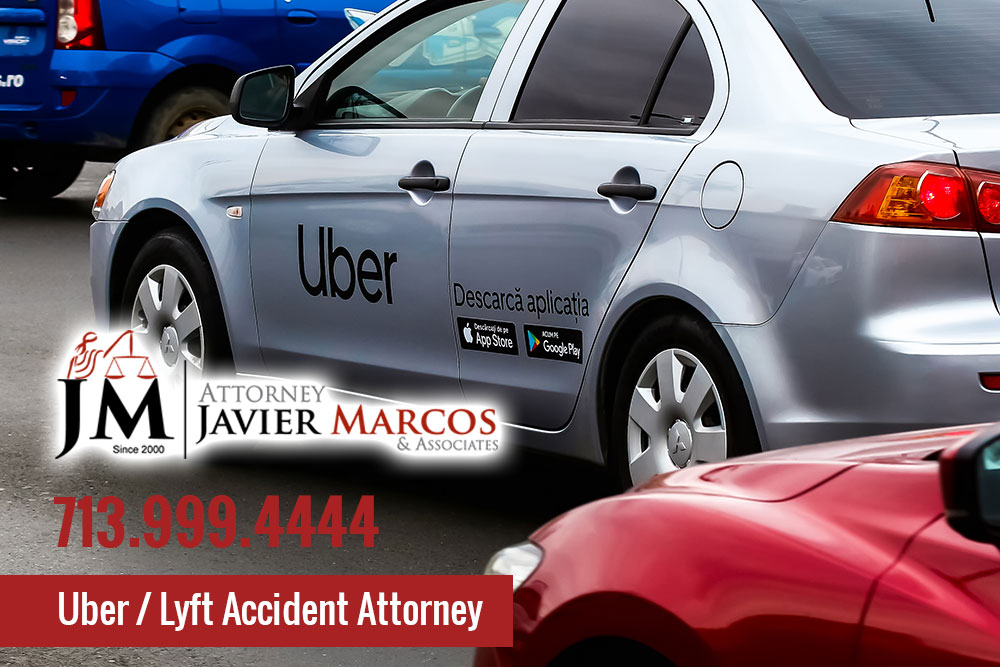 If you've suffered an accident, you have a right to file a lawsuit to recover your losses, medical expenses, treatment, pain & suffering, lost wages, inability to work or function, property damages, and others. If Spanish is your first language, do not worry, Attorney Javier Marcos is fluent in Spanish and everybody in the office speaks Spanish fluently and are available 24 hrs a day, seven days a week.
It's important that you call attorney Javier Marcos as soon as possible so that you can start your medical treatment, improve your legal position, preserve evidence, and learn your rights.
Attorney Free Consultation,  receive money for your accident, its ok if you do not have any papers, we all speak Spanish, you do not have to pay anything unless we win the case, speak directly with Attorney Javier Marcos, receive medical attention at no cost, WE GO TO YOU 24 HRS. A DAY SEVEN DAYS A WEEK.  Your information is 100% confidential and we'll visit the accident site, your home, or the hospital.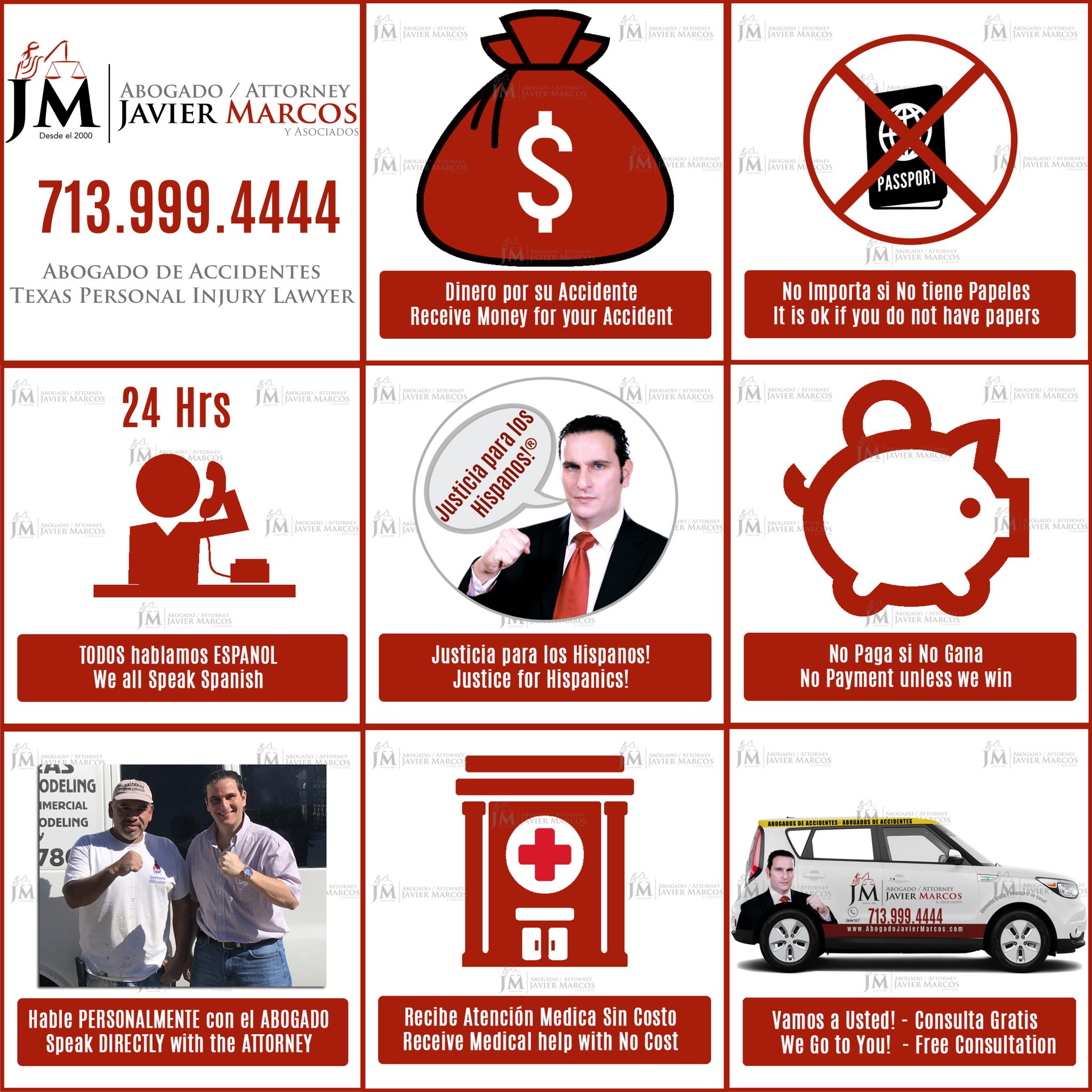 webadmin
If you find yourself involved in an accident in Texas, the degree of fault is one of the biggest contributing factors in who pays for the damages. If another driver was at fault, then you [...]
webadmin
Ridesharing Apps have become a very common means of conveyance in the past few years. They are cheaper and much more convenient than other modes of travelling. And that has made people flock toward services [...]
webadmin
Getting into an accident can be a traumatic experience. You never expect it to happen, but you can never predict when you find yourself at the center of this unfortunate event. There are steps after [...]
Frequently Asked Questions about Rideshare Accidents
Question:  Should I call an attorney after an accident involving an Uber driver?
Answer: Yes, it's good idea to contact an attorney when you have been involved in an accident with a ridesharing service, especially if there has been a lot of damage or if you have been seriously hurt or injured.  Insurance coverage for Uber and Lyft drivers vary and can be complex depending on what status the driver was in when the accident occurred.  Additionally, the driver's insurance may not cover the accident if they did not indicate to their insurance company that they use their vehicle as part of a job or ridesharing contract.  Either way, it is important that you have competent representation in these cases to get the most compensation to pay for your injuries and damage to your property.
Question:  I was hurt because of an accident involving an Uber driver.  What do I do?
Answer: First and foremost, seek medical attention.  Your health and safety is of primary concern.  Follow the advice of first responders that will show up at your accident scene.  If you are able, get contact information from the other driver as well as witnesses.  Take pictures of the accident scene which will include the vehicles and the surrounding area.  The local police should provide you with a case number that will have more information about the accident scene.  Make sure you get that.  Afterwards, if you have serious injuries and/or damage to your vehicle, it is highly recommended that you retain a personal injury attorney.  He will be able to represent your best interest against the insurance companies that will be working to minimize the amount of financial liability.  A good personal injury attorney like Attorney Javier Marcos will ensure that you get the medial attention that you need today and in the future plus get compensated properly for all your loss.
Question:  Can I sue Uber for a car accident involving one of their drivers?

Answer: Uber has different ways they handle their drivers and injury claims that come up when one of their drivers gets into an accident.  Drivers are contracted people that are required to maintain their own insurance in the event of an accident.  Also, it depends upon the "status" that the Uber driver was in when the accident occurred.  It may become complicated or difficult to get reimbursed when an accident occurs with an Uber driver.  It's a good idea to hire an experienced personal injury attorney in these cases so that you can recover as much as possible and know what you should or should not do.