Car Accident Attorney in Houston Texas
In Houston, car accidents happen every day, lots of them.  If you have been seriously hurt in a car accident in Houston, it is important that you contact a licensed and experienced car accident attorney like Attorney Javier Marcos to represent you in your case.
The Houston and surrounding areas have experienced explosive growth and as a result there has been a massive effort to expand the highways and freeways all over town.  All this construction leads to heavy traffic congestion which in turn causes more accidents.
Attorney Javier Marcos
Attorney Javier Marcos is an accident lawyer in Houston that speaks Spanish. He can help you in your car accident case 24 hours a day. Offering free consultation, we go to you wherever you are, you can call 24 hours a day, visit the doctor at no cost, speak personally with the lawyer and the best customer service. Try not to talk to the insurance company, as they will try to give you the minimum amount of money. Let the Attorney Javier Marcos talk to the insurance company. For a car accident, call Attorney Javier Marcos.
Spanish: Abogado de Accidente de Auto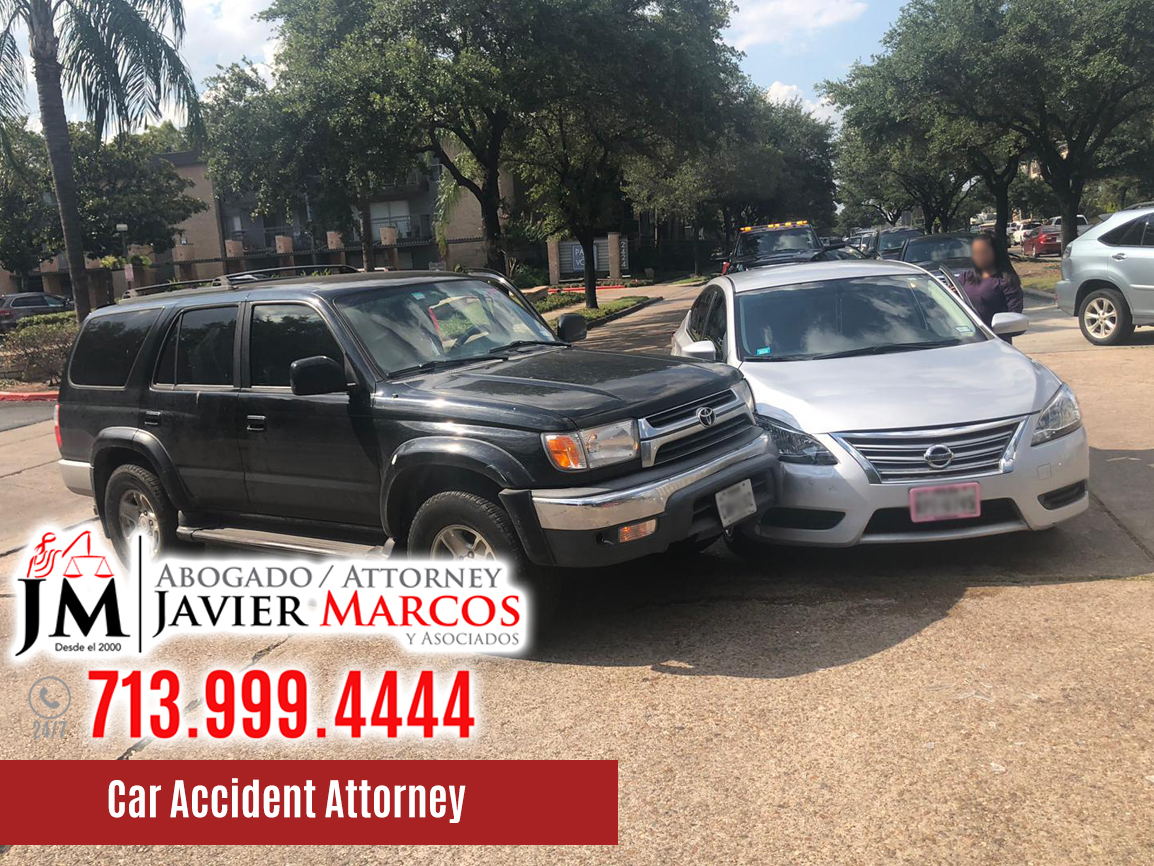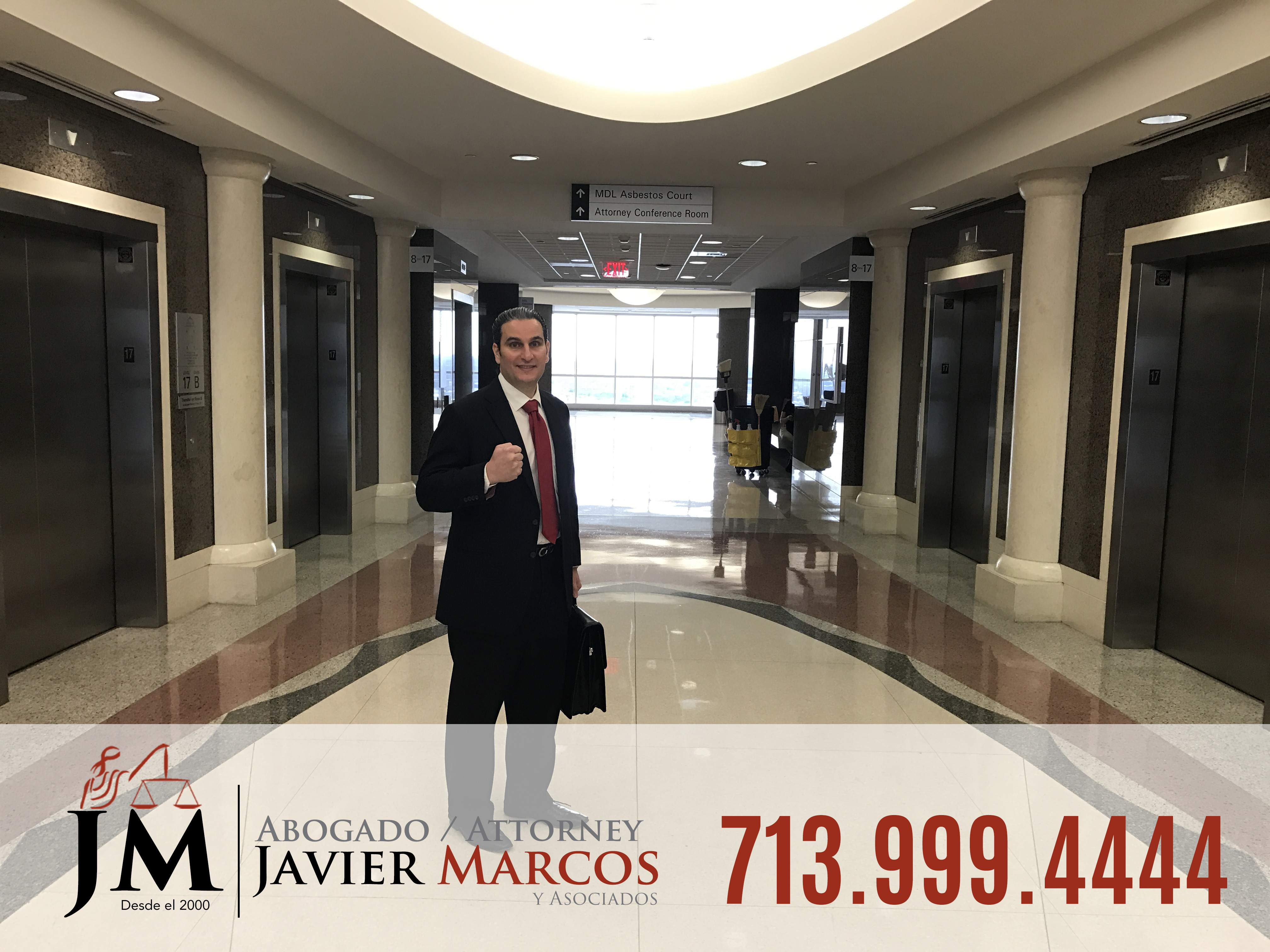 Why hire a Houston car accident attorney?
Whether you were involved in an accident caused by someone else's negligence or at your workplace, you are entitled to receive a certain amount of compensation for your injuries. However, fighting your personal injury claim alone, proving the negligent party's fault in court, and negotiating a good deal is not an easy task. This is where an auto accident lawyer can provide their assistance.
Personal injury lawyers offer legal representation to individuals who have been injured because of the intentional or negligent acts of others. An experienced auto accident lawyer will fight your case, on your behalf, to make sure you get the compensation you deserve.
es muy confiable y habla español y es muy comprometido con tus casos y es muy entregado en su trabajó
Great lawyer i recommend him
Ive had the best experience with this office! Amazing customer service! Javier Marcos really cares about ALL his clients and is the best attorney in Texas.
Es muy buen abogado. El servicio al cliente muy bueno. El abogado habla español.
There Very Professional and We've been given Exceptional services each time we use them for whatever our needs may be.. We won't use anyone but and highly recommend them for your legal services whatever it may be
Javier is a real straight shooter and works hard to get you your money. The staff are always pleasant and helpful. Highly recommended!
I recommend hiring this attorney for any personal injury matters he is a excellent attorney an his staff is very helpful and professional and caring so if you have a need for a personal injury attorney he is the man to go to, too get the most dedicated attention for your case Javier Marco's & Associates !!!
Very helpful honest lawyer. Yes I know honest and lawyer usually don't go together. Very knowledgeable in various practice areas.
Very recommended. He knows what he is doing. An attorney you can trust.
Lo recomiendo. El Abogado Javier Marcos se entiende con la gente Hispana.
El Abogado Javier Marcos es mi abogado. Siempre que quiero hablar con el esta disponible. lo recomiendo
Me parecio muy bien. Me gusta quw el abogado habla espanol. Es buena persona.
In what ways can a car accident lawyer help?
What are Common Causes of Car Accidents in Houston?
Each day more than 80 people die on United States roads and freeways.  Of those, 40% of accidents that result in death is due to drunk drivers.  Not all car accidents involve multiple drivers operating automobiles.  Occasionally, an auto accident resulting in injuries could be due to poorly maintained roads, faulty auto repairs or defective automotive products.
Texas Department of Transportation states that Houston had 64,126 total crashes in 2018. That is only Houston. You still need to add the total crashes by adding the surrounding areas.
The cause of automobile accidents include:
Distracted Driver Accidents such as people texting, reading or just not paying attention
Wrong Way Driver Accidents
Drunk Driving Accidents
Failure to Yield Accidents
Driving Under the Influence Accidents
Unsafe Lane Change Accidents
Reckless or Dangerous Driving Accidents
Speeding Accidents
Common Types of Injuries in Auto Accidents
Car accidents result in many times of injuries.  Speed, size and many other variables lead to possible serious injuries from auto accidents.  Some common injuries include:
Neck and Back Injuries
Broken Bones
Strained Muscles
Cuts and Bruises
Internal Organ Damage
Brain Injuries
Amputations
Permanent Disfigurement
Disability that is permanent
Do I need to Hire a Auto Accident Attorney in Houston?
In any case, if you have been seriously injured in an auto accident, the best thing you can do is to get hire an experienced car accident injury attorney to represent you when dealing with insurance companies, law enforcement and other drivers.
First and foremost, seek medical attention for your injuries.  Just keep in mind that there is limited time for filing a lawsuit.  In Texas, personal injury claims must be filed within two years.  This seems like a long period of time, but the sooner an experienced auto accident attorney can get started on a case, the better the outcome.  The personal injury attorney will gather evidence, request police reports and interview witnesses as well as gather medical treatments that you received.  The more time that passes makes it that much harder to get accurate information.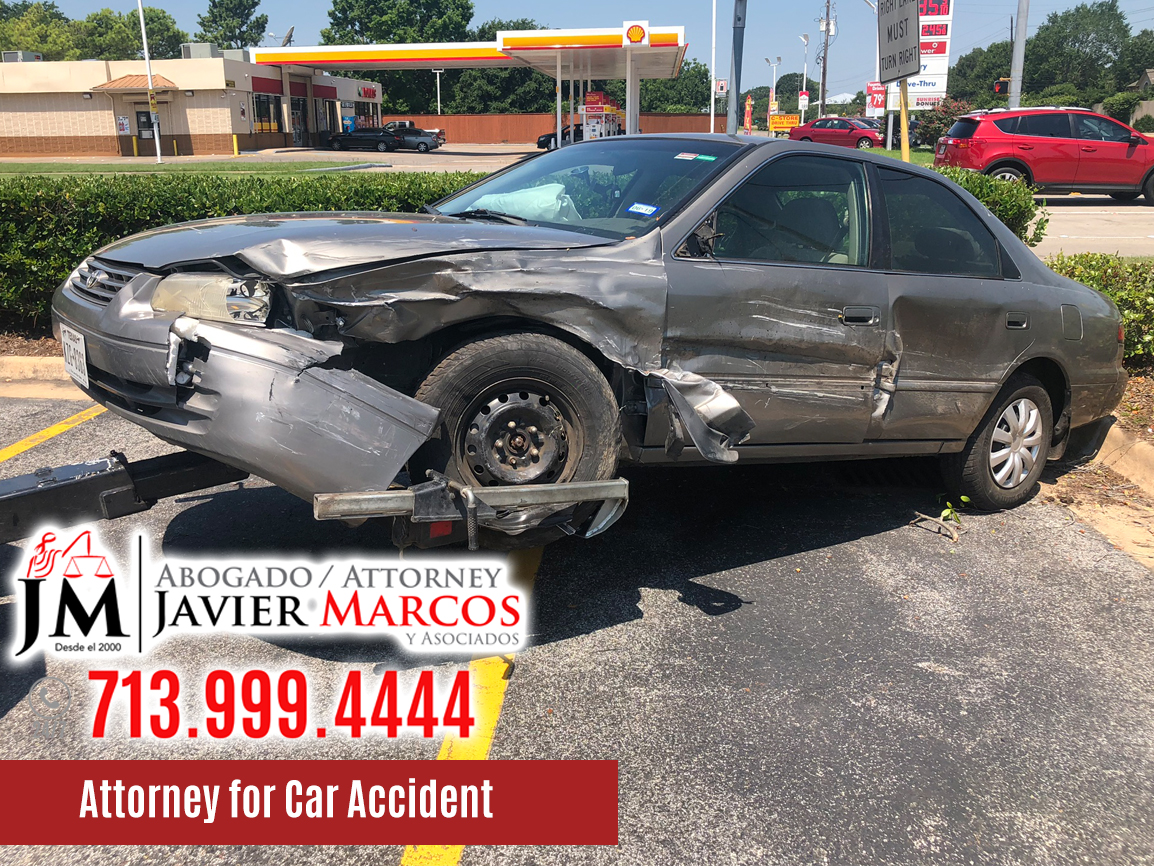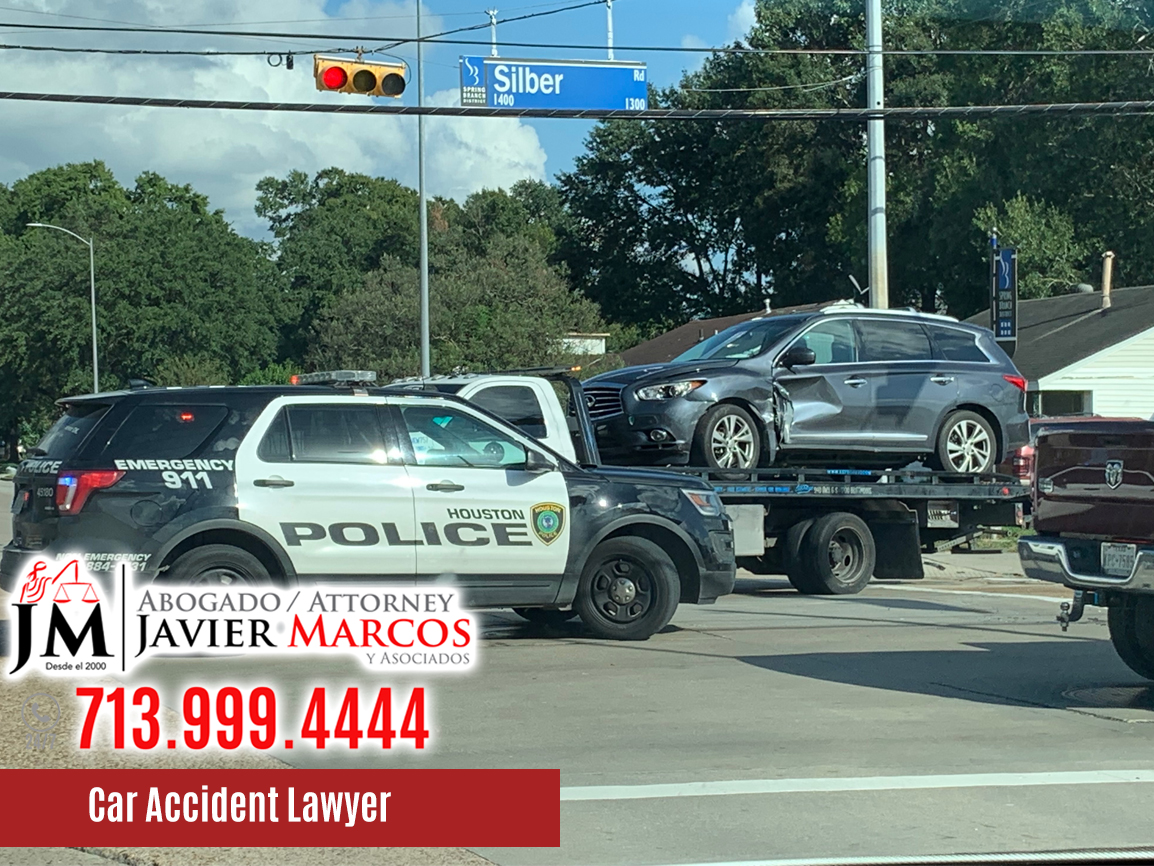 How much Compensation Can I Expect from an Auto Accident?
In many car accidents, people just let insurance adjusters take control of the situation and accept whatever is awarded.  The fact is that when it comes to auto accidents, insurance adjusters are there to minimize the money that insurance companies must award.  They are here to offer you the lowest settlement possible.  The best course of action at the time of the car accident is to give the other party your basic contact and insurance information.  Then if you have been hurt in the accident, seek medical attention and work on getting an experienced auto accident attorney on your side.
The insurance company may contact you to offer a settlement.  It may be tempting to accept this settlement but realize that once you do, you cannot typically go back to them and ask for more if you have more out of pocket expenses.  It is very important that you consult with an auto accident attorney BEFORE you accept any settlement offer.  The personal injury attorney will assure that you are properly and fully compensated including:
Current and possible future medical treatments
Any lost wages and any possibly diminished future earnings
Pain and suffering
Punitive damages for negligence
Wrongful death damages, if applicable
Other expenses you may have incurred
Is the police involved in the car accident?
If you have been in a car accident, it is better to get the Police/EMS notified. The local police should be contacted in the event of an auto accident resulting in injuries in addition to EMS personnel.  The police will file reports which both parties will use to determine fault.  If possible, take pictures of the vehicles and immediate surroundings.  The police may gather witness information.  If not, try and get any witness information to help corroborate your story.  If you have been hurt and an ambulance shows up, go get checked out via ambulance.  If your injuries are not that significant, seek medical care to make sure that there are not injuries you are not aware of.  Car accidents cause lots of stress and you may not feel hurt at the time.
Seek Legal Advice – Before talking to any insurance representative or adjusters, contact an experienced, licensed personal injury attorney like Attorney Javier Marcos.  Not all attorneys are alike.  An experienced car accident attorney can greatly impact the amount of compensation you receive from your car accident injury claim.
5 Mistakes to Avoid After an Auto Accident 
The instant you get involved in an auto accident, not only…but also the process of evaluating the accident claim begins. Clearly many people aren't aware of this fact. Which of course is natural, given the shock and emotional trauma that follows a crash.
While you go through a rollercoaster ride of financial loss, emotional and physical stress, you are bound to make some mistakes that might negatively affect your case. While consulting a personal injury lawyer is one of the best things you can do after an auto accident, there are still a few things you should be careful about in order to make your claim stronger.
Following are the five most common mistakes after an accident that most people make and you should avoid:
1.    Not Calling the Police
First and foremost, undoubtedly, one of the most common mistakes that people make after an auto accident is neglecting to call the police. Along with thinking that if they call first, they will be held accountable. It should be noted this is not the case. Anyone involved in a car accident is required by law to inform the authorities.
Accidents can result in bodily injuries, not to mention stress and chaos if not controlled. Furthermore, it is necessary to notify the police so they can interview eyewitnesses, direct traffic, and prevent any altercations.
2.    Admitting Fault
After an accident, the majority of the individuals have the natural inclination of ensuring others are safe. As well as they apologize even if they are not at fault. Absolutely making sure everyone is safe is integral in such a situation. On the other hand you must avoid admitting fault of the accident. Especially as this can be taken as an admission of fault by the lawyers and insurers of other parties. Never accept blame even if you think the accident is your fault. It might not be the case.
3.    Sharing Details on Social Media
In today's world, people instantly share things on social media to keep their loved ones informed or to get support from them. Especially in case of a traumatic accident. Importantly this is because whatever you post under stress and confusion immediately after the accident might be negatively used against you. Whereas by the insurance company when you file a claim.
4.    Neglecting to Get Medical Attention
Clearly a lot of people can suppose that they did not suffer any injuries after an accident. Nevertheless you might assume you didn't sustain any physical injuries after an accident. But it is crucial that you still seek medical attention. It should be noted that it is possible that you might have sustained internal injuries that might manifest later on.
5.    Getting your Case Settled without Consulting a Lawyer
Last but not least, another mistake people make is to quickly deal with the settlement. Obviously in order to leave the traumatic event behind them. They agree to whatever settlement the insurance company offers them without consulting a lawyer.
You need to keep in mind that the insurance company will try to use your financial and emotional state to encourage you to settle for whatever amount they offer. Avoid giving in without consulting a personal injury lawyer. Even so, you might deserve a better settlement, which your accident lawyer like Javier Marcos can help you with.
A personal injury lawyer like Attorney Javier Marcos, can guide you and fight your case for you in this stressful situation. All you have to do is avoid making these common mistakes in order to get the best possible outcome for your auto accident claim.
If you've suffered an accident, you have a right to file a lawsuit to recover your losses, medical expenses, treatment, pain & suffering, lost wages, inability to work or function, property damages, and others. If Spanish is your first language, do not worry, Attorney Javier Marcos is fluent in Spanish and everybody in the office speaks Spanish fluently and are available 24 hrs a day, seven days a week.
It's important that you call attorney Javier Marcos as soon as possible so that you can start your medical treatment, improve your legal position, preserve evidence, and learn your rights.
Attorney Free Consultation,  receive money for your accident, its ok if you do not have any papers, we all speak Spanish, you do not have to pay anything unless we win the case, speak directly with Attorney Javier Marcos, receive medical attention at no cost, WE GO TO YOU 24 HRS. A DAY SEVEN DAYS A WEEK.  Your information is 100% confidential and we'll visit the accident site, your home, or the hospital.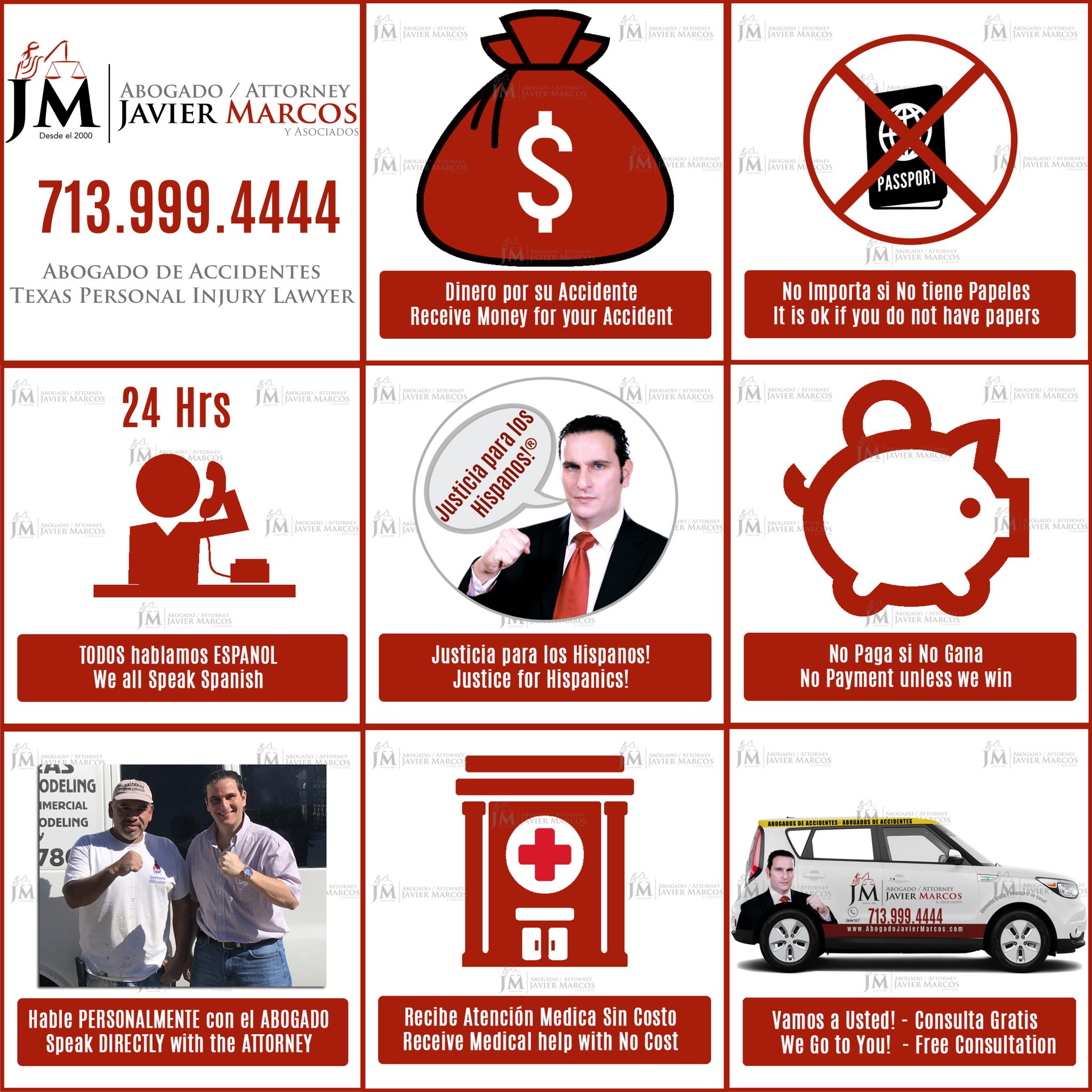 webadmin
People generally assume that getting injured in a truck accident entails the same process of filing a claim as a car injury claim. However, this isn't the case since 18-wheeler truck accidents are more severe [...]
webadmin
Workers' compensation is insurance that provides medical benefits and wage replacement to employees who are injured at work. It is paid by employers. However, this also relinquishes the right of employees to sue their employers [...]
webadmin
Being involved in a hit and run accident can be a highly disorienting experience. While you might not be prepared for a car accident to happen, you would still expect the other driver to stay [...]
Should I hire an attorney for a car accident in Houston?
There is no law in Houston that requires you to hire an attorney because you were involved in a car accident. But if you were seriously injured, it is a good idea to retain an attorney that is experienced in handling car accident claims in Houston. A car accident lawyer will ensure that you receive fair and just compensation for your injuries and other factors such as lost wages and property damage. The fact is that insurance company's main objective is to minimize the amount of compensation awarded in the car accident. Attorney Javier Marcos will make sure that you get the care and compensation you deserve from your car accident.
How much does a car accident lawyer charge?
Personal injury lawyers that represent victims of car accidents work on a contingency basis which means there are no upfront costs. You give us no payment. The only way we get paid from a car accident claim is if we win your case and you get compensation. Attorney Javier Marcos has worked thousands of car accident claims with minor to severe injuries. He will explain completely the terms of the contingency arrangement depending on many factors.
How long do I have to file a car accident claim in Houston?
Texas has a statute of limitations when it comes to filing a claim that you were injured in your car accident. There are different time limits to different types of claims, so it is important that you retain an experienced car accident attorney like Attorney Javier Marcos to represent you. Additionally, the longer you wait to file a claim, the harder it is to gather evidence, reports and statements that will help your car accident lawyer to support your injury claim.
Should I go to the hospital after a car accident?
Many times, people involved in a car accident is unaware of injuries they may have sustained while at the accident scene. Usually, once they calm down the aches and pains begin. It is always a good idea to get medically checked out after a car accident just to make sure that you are okay. Seeking medical care not only gives you the peace of mind that you will be okay but if you did sustain injuries, it will help your case legally when you retain a car accident attorney to represent you in an injury claim to recover the medical expenses you paid to get treatment.