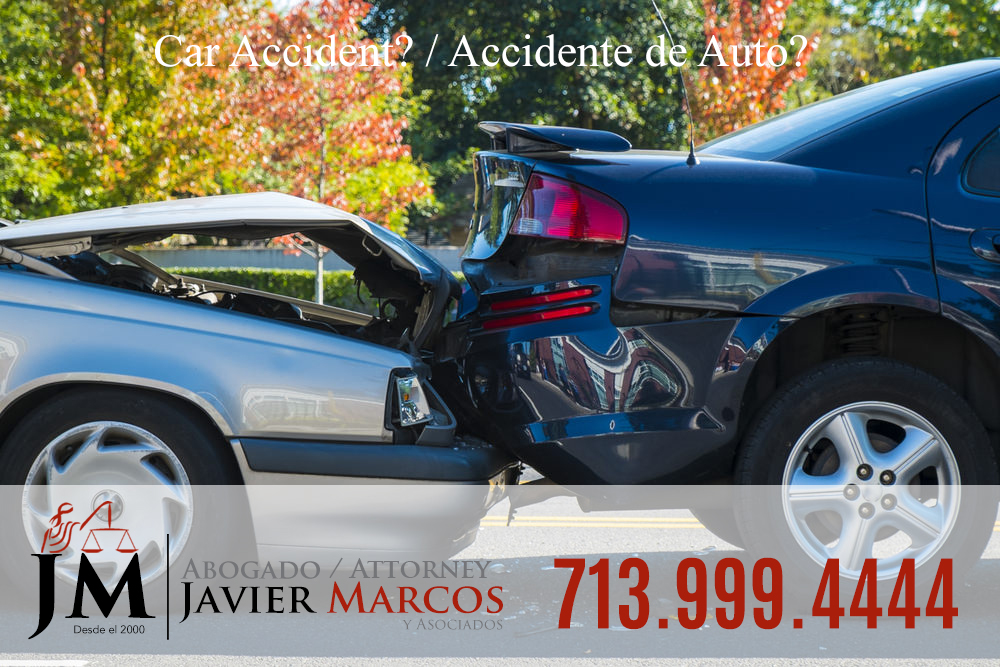 Auto Accident Attorney
A auto accident happens when one vehicle wrecks with another vehicle, an animal, a tree, with a person, or other obstruction in the street like a light post. If you have suffered an accident, call auto accident attorney Javier Marcos for help.
More than 80 people die in car accidents each day in the United States.
40% of accidents that end in death are a result of alcohol.
It's important that you get medical help immediately since sometimes you don't realize you've been hurt until hours after the accident.  Over time, minor injuries can become complicated or permanent injuries.  Also, over time, it's more difficult or to late to identify the person that caused the accident. If you have suffered an auto accident, auto accident Attorney Javier Marcos is ready to help you the 24 hours / 7 days a week at 713.999.4444.
Hurt/ Death of a family member in a car accident?
1. Talk to Attorney Javier Marcos.
Call the office as soon as possible.
Our office is open 24 hours every day of the year.
Call now 713-999-4444 / 1800-444-8118.
2. We'll go to the accident scene to help you personally and gather evidence and information necessary for the case.
We'll also visit your home or hospital.
We'll take care of protecting your rights.
3.  Do not speak with any insurance company.  Don't talk with the company or person with which you had an accident.
Attorney Javier Marcos will take care of talking to them.
Remember, they will use everything you say to them against you.
Auto accident attorney Javier Marcos  knows how to talk to them and protect your interest.
Why does a auto accident happen?
Effects of alcohol or drugs.
Sudden mechanical failure.
Driver with bad eye sight.
For disobeying a traffic control device.
People who suffer an accident, maybe entitled to:
• Consult with a qualified doctor.
• Receive therapies.
• Surgery.
• Hospital.
• Recover medical expenses.
• Recover lost wages at work.
• Fix the car.
• Compensation for suffering.
• Compensation for losses in the future.
Your Call is Important | Auto Accident Attorney | Attorney Javier Marcos
If you've suffered an auto accident, you have a right to file a lawsuit to recover your losses, medical expenses, treatment, pain & suffering, lost wages, inability to work or function, property damages, and others.
It's important that you quickly call Attorney Javier Marcos & Associates so that you can commence your medical treatment, do not worsen your legal position, preserve evidence, and learn your rights.
Attorney Free Consultation is provided by Javier Marcos and Associates, your information is 100% confidential and we'll visit the accident site, your home, or the hospital.
If you need a truck accident attorney, personal injury lawyer, auto accident attorney, motorcycle accident lawyer, road rage attorney, work accident attorney, construction accident attorney, bicycle accident lawyer, maritime accident lawyer, jones act attorney,  explosion attorney, burn injury lawyer, chemical exposure attorney, dog bite lawyer, liens in construction lawyer, construction liens attorney, criminal defense attorney or a litigation attorney.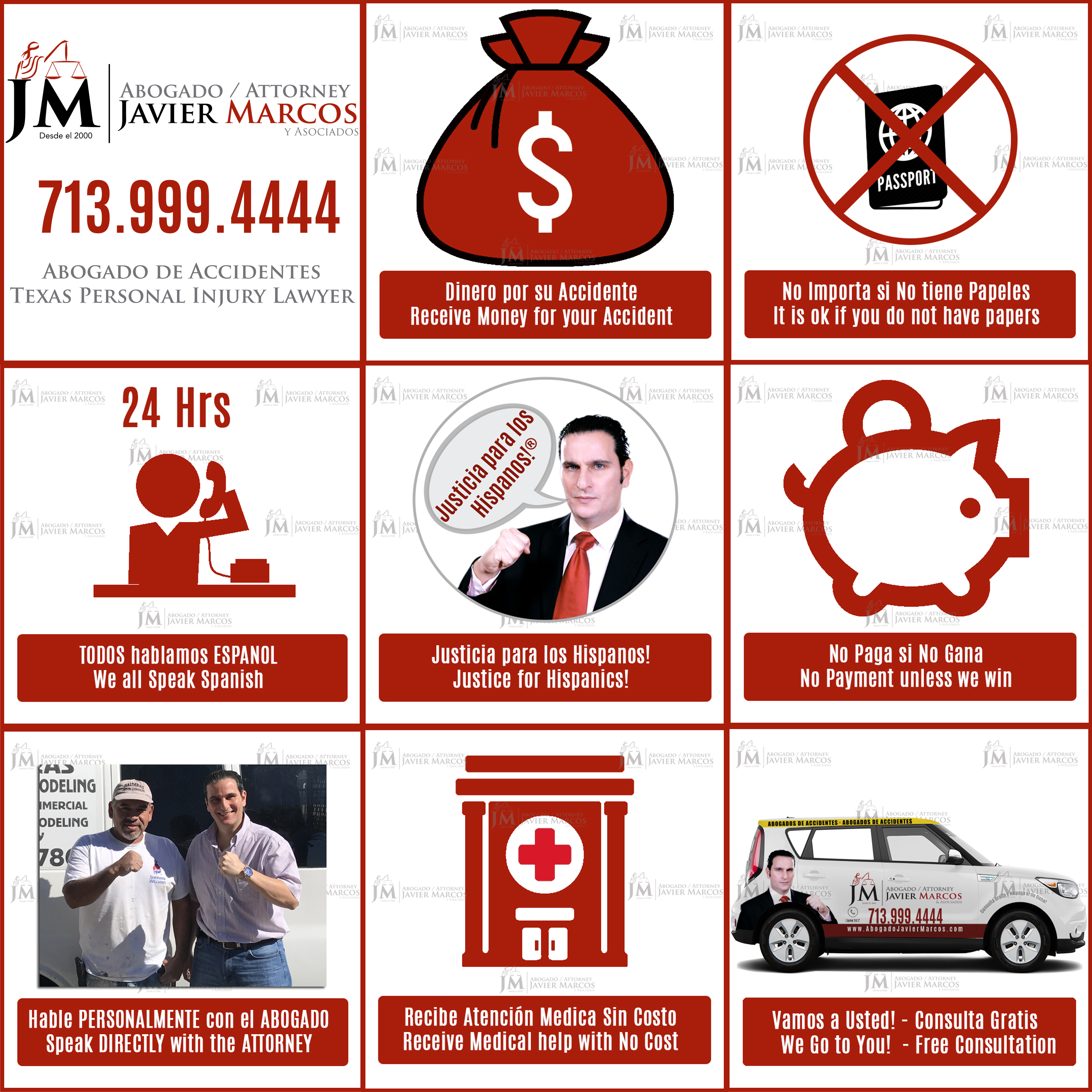 FREE CASE EVALUATION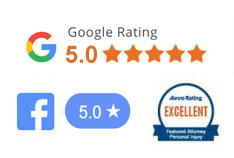 If you have suffered an accident you have the right to file a claim to cover your losses, medical expenses and carry out your treatment. And for this, you will need a  accident attorney. You can count on Attorney Javier Marcos 24 hours.
It is important that you call Attorney Javier Marcos as soon as possible so that you can immediately begin your medical treatment, defend yourself, not put your legal situation at risk, keep the necessary evidence and know your rights.
Free Consultation, receive money for your accident, it does not matter if you do not have papers, here we all speak Spanish. You do not have to pay anything if you do not win the case, you can speak directly with Attorney Javier Marcos in Spanish, receive medical attention without cost, and we WILL GO TO YOU 24 hours a day.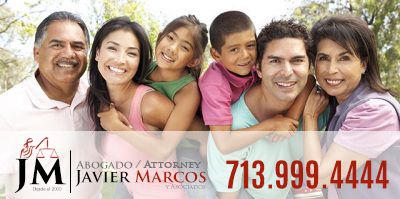 5 stars! Best law firm in Houston! Javier Marcos and his team took care of me when I was hit by a drunk driver. They made it so easy for me while I recover from this accident. I am so thankful for them! If you are looking for a attorney don't hesitate, this is your guy!
Words can not Express my gratitude towards Marcos and his staff! Each one of them provided exceptional customer service. Goes above and beyond. I'm so glad I had a such an awesome experience. I highly recommend Javier Marcos to be anyone's representative. Stop doing research on any other lawyer. Choose Javier and his staff to take care of you. They are very caring and compassionate team. YOU WILL NOT REGRET CHOOSING THEM!
Javier Marcos is an incredible attorney. I have known him over 14 years and have used him on multiple occasions for both personal and business litigation. On EVERY occasion, he was not only successful, but exceeded my expectations, winning me more money than expected or utterly defeating my opponents and putting them in their place!