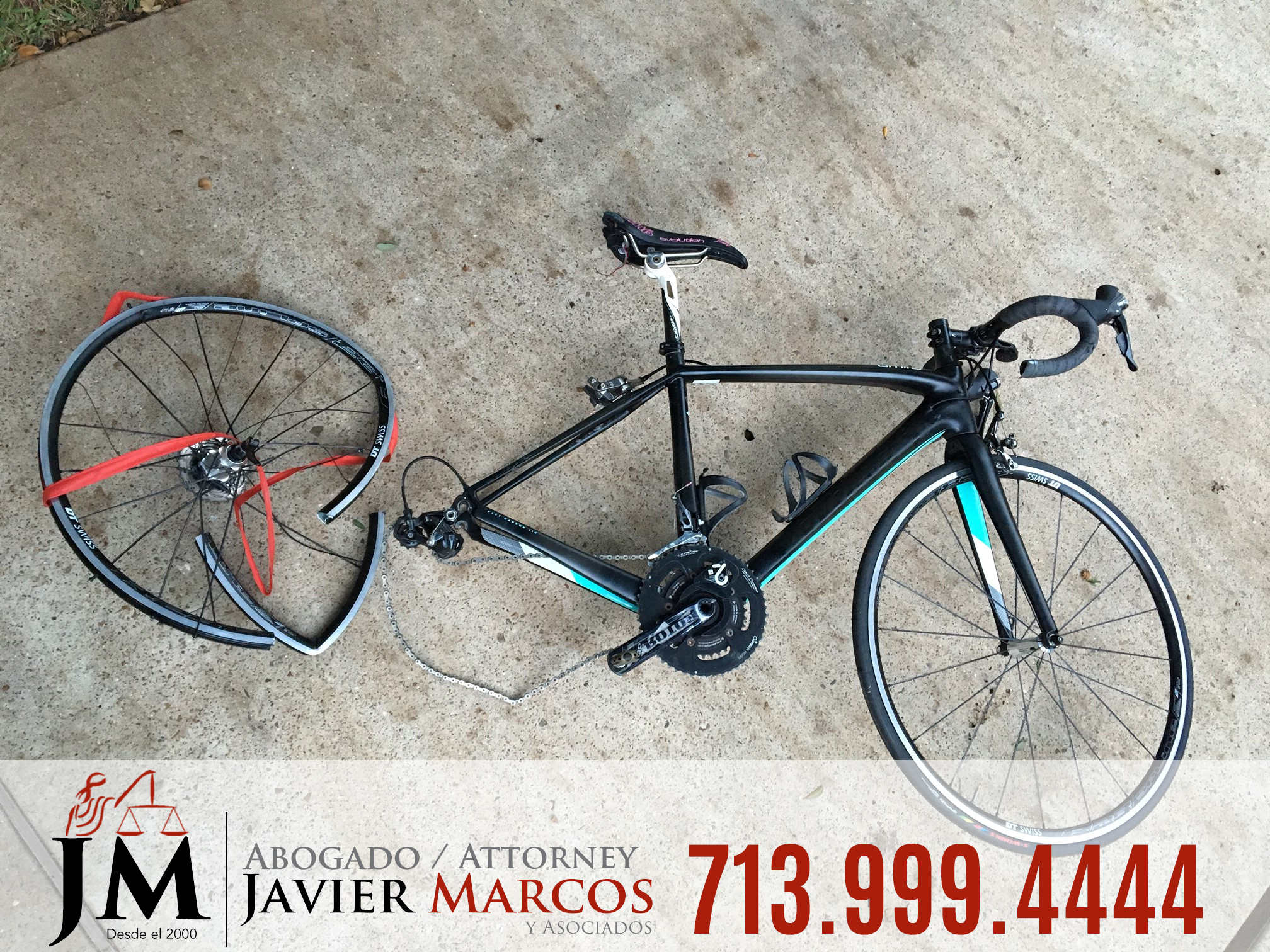 Bicycle Accident Attorney
Accidents between a bicycles and an automobiles occur because of neglect on the part of the driver, the cyclist or both parties.It's important that you get medical help immediately since sometimes cyclists don't realize they've been hurt until hours after the accident.  Over time, minor injuries can become permanent injuries.  And by then, it's too late to identify the person that caused the accident. Call bicycle accident attorney Javier Marcos for help.
Bicyclists that have been hurt by a car, motorcycle, commercial vehicle, or other bicyclists.
Bicyclists that have been chased by a dog.  Dog bite.
Bicyclists that have been hurt by a car door.
Bicyclists that have been hurt because of improper maintained road or curb, and/or obstacle or hole in terrain without warning.  Premise liability.
Bicyclists that have died because of the accident/impact.
What should you do if you've suffered a bicycling accident?
1. Call 911, find medical help immediately.
Don't talk to anyone.
Just let them help you medically.
You should call the office as soon as possible.
Our office is open 24 hours every day of the year.
Call now 713-999-4444 / 1(800) 444-8118.
3. We'll go to the accident scene.
To attend to you personally and gather evidence and information necessary for the case.
We'll also visit your home or the hospital.
We'll take care of making sure you're well protected.
4. Wait for the police to arrive to make a report, gather evidence, and personal information from the people involved in the accident.
5. Don't talk with the insurance.
Attorney Javier Marcos will take care of talking with them.
Remember that they will use anything you say against you.
Attorney Javier Marcos and Associates knows how to talk to them and protect your interest.
How can you prevent injury or death from a bicycling accident?
Use fluorescent clothing so that others can see you better.
Make sure your bicycle is equipped with white lights in front and red lights in back.
Use dedicated bicycle lanes.
Obey traffic control devices.
Your Call is Important | Bicycle accident attorney | Attorney Javier Marcos 
If you've suffered an accident, you have a right to file a lawsuit to recover your losses, medical expenses, treatment, pain & suffering, lost wages, inability to work or function, property damages, and others. It's important that you quickly call bicycle accident attorney Javier Marcos so that you can commence your medical treatment, do not worsen your legal position, preserve evidence, and learn your rights.
Attorney Free Consultation is provided by Javier Marcos and Associates, your information is 100% confidential and we'll visit the accident site, your home, or the hospital.
If you need a truck accident attorney, personal injury lawyer, auto accident attorney, motorcycle accident lawyer, road rage attorney, work accident attorney, construction accident attorney, bicycle accident attorney, maritime accident lawyer, jones act attorney,  explosion attorney, burn injury lawyer, chemical exposure attorney, dog bite lawyer, liens in construction lawyer, construction liens attorney, criminal defense attorney or a litigation attorney.